X
X
X
Portland Mayor Ted Wheeler:
(
03:56)
"

It's
📢YOU📢
Illustrator: Edel Rodriguez
📢

who

📢
have created
the
📢

hate

📢
and
the
📢

division📢…

"
X
X
X
X
X
Armed

Trump

supporters aka vigilantes roll into Portland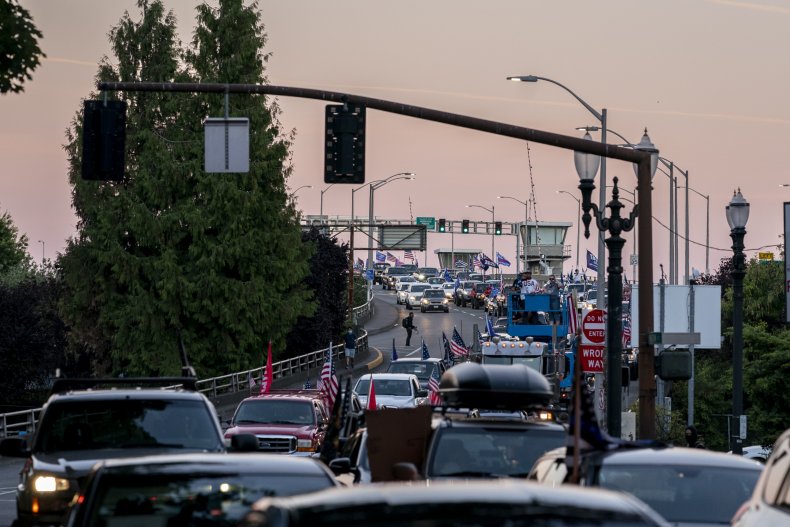 A caravan of supporters
of
President

Donald Trump
drive into downtown Portland, Ore.,
Saturday, Aug. 29, 2020.
 Saturday's

'rally'

was the third consecutive weekend
that

pro-Trump

demonstrators
converged in and around Portland,
leading to clashes with

BLM

protesters.
X
The Law and Order

President
who
praises

/ encourages
vigilantes
– not  to be confused with a city's local Neighborhood Watch
?
X
vigilante
noun
a member of a vigilance committee.
any person who takes the law into his or her own hands, as by avenging a crime.
adjective
done violently and summarily, without recourse to lawful procedures
X
X
X
X
X
X
X
X
X
And Portland Police Bureau chief, Chuck Lovell, and he will be followed by Multnomah County district attorney, Mike Schmidt. So let's get right to it. Hand the microphone over to Mayor Ted Wheeler.
Mayor Ted Wheeler:

(00:11)
Thank you, Tim. This afternoon, my heart is heavy. My heart goes out to the family and the friends of the man who was killed last night on the streets of our city. I mourn with you. I'm going to support the police chief and the district attorney in apprehending and holding accountable those who are responsible for the homicide last night. I stand here with the police chief and the district attorney to, again, denounced the violence. The tragedy of last night cannot be repeated.
Mayor Ted Wheeler:

(00:53)
All of us must take a stance against violence. And it doesn't matter who you are or what your politics are, we have to all stop the violence. For those of you saying, on Twitter, this morning that you plan to come to Portland to seek retribution, I'm calling on you to stay away. You of course have a constitutional right to be here, but we're asking you to stay away and work with us to help us deescalate the situation. Portlanders, I'm asking all of us to do our part too.
Mayor Ted Wheeler:

(01:33)
One death is one death too many. Join me in denouncing all violence. Let's pull together in the name of peace and humanity. We don't always have to agree, but we've long done so without violence. That's part of what makes this nation strong. Let's end this long, hard summer and come together and work to support and lift each other, not tear each other apart. I'm going to continue to work with the community on the historic changes that we've already made and have committed to making as we reimagine what public safety and racial justice can look like in our community, and we'll continue to do that work in the weeks and the months ahead.
Mayor Ted Wheeler:

(02:22)
There's so much work to do, and I'll be intentionally engaging the public as we proceed along these … proceed to engage in that hard work together. Yesterday's events began with hundreds of cars filled with supporters of the president rallying in Clackamas County, and then driving through downtown Portland. They were supported and energized by the president himself. President Trump, for four years, we've had to live with you and your racist attacks on black people. We learned early about your sexist attitudes towards women. We've had to endure clips of you mocking a disabled man. We've had to listen to your anti-democratic attacks on journalists.
Mayor Ted Wheeler:

(03:13)
We've read your tweets slamming private citizens to the point of receiving death threats, and we've listened to your attacks on immigrants. We've listened to you label Mexicans rapists. We've heard you say that John McCain wasn't a hero because he was a prisoner of war, and now you're attacking democratic mayors and the very institutions of democracy that have served this nation well since its founding. Do you seriously wonder, Mr. President, why this is the first time in decades that America has seen this level of violence?
Mayor Ted Wheeler:

(03:56)
It's you who have created the hate and the division, it's you who have not found a way to say the names of black people killed by police officers, even as people in law enforcement have, and it's you who claimed that white supremacists are good people. Your campaign of fear is as anti-democratic as anything you've done to create hate and vitriol in our beautiful country. You've tried to divide us more than any other figure in modern history, and now you want me to stop the violence that you helped create.
Mayor Ted Wheeler:

(04:38)
What America needs is for you to be stopped so that we can come back together as one America, while recognizing that we must demand that all people, black, brown, white, every color from every political persuasion pull together and hold all people accountable in stopping racism and violence. And we together are peaceful again under new leadership that reflects who we really are, we the people of this great nation. President Trump, you bring no peace, you bring no respect to our democracy. You, Mr. President, need to do your job as the leader of this nation, and I, Mr. President, will do my job as the mayor of this city and we will both be held accountable as we should.
Mayor Ted Wheeler:

(05:36)
I'm also calling out every other elected official in Oregon to join me, not only in defeating racism, but also in helping me to stop the violence as we are and will continue to be held accountable by all of our residents. Today, we need to decide who we are and where are we want to go from here. Don't let this be the spark that's sets off an acceleration of hostilities in our beautiful city. Those are not our values. What happened last night does not move us forward. It sets us back.
Mayor Ted Wheeler:

(06:14)
I know the values of this community. I was born and raised here, I found my living here, I raised my family here. This is where I want to be, and I know the values of this community. We want to protest powerfully and peacefully. We believe that black lives matter, and we believe that it's the responsibility of our leaders to ensure that the systems that we have in place to protect and serve do so equitably. Let's engage with each other in thoughtful dialogue about reform and use the power of our shared values to move forward together. We must recommit our energy and our resources to advancing the work of reform and the transformation of our systems.
Mayor Ted Wheeler:

(07:05)
We've seen the positive power of collective and focused and nonviolent action. We've seen the change. Our responsibility to each other is to keep moving forward. Portland is counting on its leaders, the city, the county, the state, our federal partners to partner and use the collective power of our officers to create a better future for all of us. Thank you.
X
X
X
X
X
Mayor Wheeler's Open Letter to President Trump
Dear President Trump:
Yet again, you said you offered to aid Portland by sending in federal law enforcement to our city.
On behalf of the City of Portland:
No thanks.
We don't need your politics of division and demagoguery. Portlanders are onto you. We have already seen your reckless disregard for human life in your bumbling response to the COVID pandemic. And we know you've reached the conclusion that images of violence or vandalism are your only ticket to reelection.
There is no place for looting, arson, or vandalism in our city. There is no room here for racist violence or those who wish to bring their ideology of hate into our community. Those who commit criminal acts will be apprehended and prosecuted under the law. 
Tens of thousands of Portlanders have peacefully protested and marched for the noble cause of fixing our broken criminal justice system. They are part of the proud progressive tradition of Portlanders fighting for justice – from racial justice to economic justice to environmental justice.
When you sent the Feds to Portland last month, you made the situation far worse. Your offer to repeat that disaster is a cynical attempt to stoke fear and distract us from the real work of our city. 
In Portland, we are focused on coming together as a community to solve the serious challenges we face due to systemic racism, a global pandemic and an economic recession.
Stay away, please.
Signed,
Ted Wheeler
Mayor of Portland
X
X
X
X
X
X
X
X
X
X
X
X
X
X
X
X
X
X
LA Clippers head coach Doc Rivers

NAMES
Thank you for using your platform Doc Rivers!!!
The Lincoln Project –  Republican anti –Trumpers
The Lincoln Project
is an American political action committee
formed in late 2019
by several current and former Republicans.
The goal of the committee is to
prevent the reelection of Donald Trump
in the 2020 presidential election
and
defeat his supporters in the United States Senate.
In April 2020, the committee announced
their endorsement
of Democratic presidential nominee
Joe Biden.
X
X
X
Xhttps://youtu.be/rBu0BRTx2x8
PLEASE

WATCH

. YES, please

watch

. Concise.

X
X
X
X
X
Trump

is acting like a cornered animal.
America needs a human being.
And so the president is trying to provoke
a race war on the streets of America….
X
X
X
X
X
X
X
X
X
X
X
X
X
X
X
X
Thank you
Chadwick Boseman
for your
creative genius and clear life purpose:
creating / inspiring
templates of CHARACTER /  inner POWER / radical hope ICONS
FOR Black boys / men WORLDWIDE

  and
leaving an
ETERNAL / FOREVER
legacy / contrails / optics
of
NEW BREED LEADERS

!!!!!
X
X
X
X
X
My AWEmaZING friend, LKK, as

Black Panther

when he was 3. October 2018.
Photo credit: 'Auntie Catherine'

X
X
X