X
X
X

X
"Jazz, at its very roots, is a music created, developed and shaped by Black culture. The EFG London Jazz Festival has worked for years to promote cultural diversity and opportunity, but we know that there remains much more to be done.
We are listening, learning and supporting, and hope that our Festival programme this year, despite global challenges, represents the diverse society in which we live and the range of people who form the backbone of our music.
Moving forward, we will try our best to be self-aware, to challenge ourselves at every turn and to actively push for positive change."
X
X
X
LINE UP
X
X
X
20 November

:
Charles Lloyd

+

NÉRIJA

@ LONDON Barbican!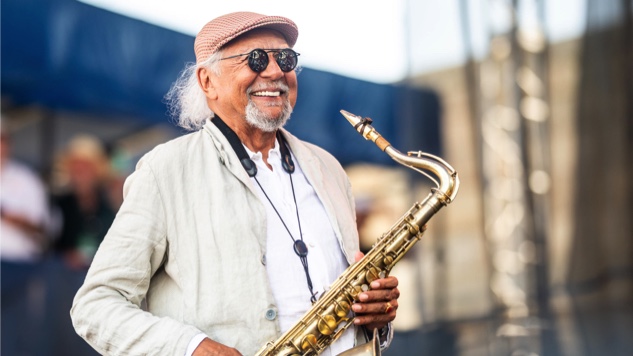 Charles Lloyd will be accompanied by a powerful band featuring
Gerald Clayton on piano,
Reuben Rogers on double-bass
and
Kendrick Scott on drums.
Nérija are the septet of Nubya Garcia (tenor saxophone), Sheila Maurice-Grey (trumpet), Cassie Kinoshi (alto saxophone), Rosie Turton (trombone), Shirley Tetteh (guitar), Lizy Exell (drums) and Rio Kai (bass).

X
X
X
X
X
X
INTERVIEW
Thu 18 Nov 2021 10.39 EST
Charles Lloyd
"We played the Royal Albert Hall in 1964," says Charles Lloyd, recollecting his first ever UK performance. "Packed it to the rafters." He was 26, playing tenor saxophone in Cannonball Adderley's majestic band and getting his first taste of a world beyond US jazz and blues clubs. "I'm looking forward to returning," says Lloyd of this weekend's appearance at the EFG London jazz festival.
Now 83, he speaks in a drawl that mixes jazz argot and spiritual entreaties – he says he spent the pandemic "building steps", meaning to a higher plane rather than a DIY project – and is raring to re-engage with an audience. "I've been playing in front of audiences since I was nine. Been a professional musician since I was 12. It's what I do." 

X
X
X
X
X
X
X
X
X
Charles Lloyd

– Arrows Into Infinity
A Film by

Dorothy Darr

and

Jeffrey Morse
Arrows Into Infinity chronicles the arc of an improviser's still-unfolding life, moving through time with memories, archive footage and music, lots of music. Charles Lloyd's story is a special one, and it intersects with important moments in jazz history. Lloyd grew up in Memphis, Tennessee, and had early contact both to masters of an increasingly sophisticated jazz tradition and the raw voices of the blues. Booker Little was a childhood friend, Phineas Newborn a mentor. In his teens Lloyd hit the road with Howlin' Wolf. He befriended Ornette Coleman, Don Cherry and Billy Higgins in a period when blueprints for musical freedom were redrawn, and replaced Eric Dolphy in Chico Hamilton's band, soon building a reputation as an exceptional saxophonist and a composer of strikingly original melodies. His own groups drew together some of the most exciting players of the day, and his late 60s quartet with Keith Jarrett and Jack DeJohnette made an impact at many levels, playing opposite Hendrix and Janis Joplin at the Fillmore Auditorium, touring Europe's festivals to great acclaim, making a now-legendary foray into the Soviet Union, and selling a million copies of their Forest Flower album, a massive FM radio hit. Then Charles Lloyd retreated from the limelight, preferring to play his flute in the mountain forests of Big Sur. For almost two decades sightings of him in jazz contexts were rare. A tentative return to public service was made in the company of pianist Michel Petrucciani; the 1989 ECM recording Fish Out Of Water, with Bobo Stenson, Palle Danielsson and Jon Christensen signaled a new beginning. Since then Lloyd has led a succession of outstanding bands including the recent quartet with Jason Moran, Reuben Rogers and Eric Harland and the Sangam trio with Harland and Zakir Hussain. These musicians contribute their thoughts about Charles Lloyd's work to this remarkable documentary – as do Herbie Hancock, Ornette Coleman, Robbie Robertson, Jack DeJohnette, Don Was, John Densmore, Jim Keltner, Geri Allen, Larry Grenadier, Alicia Hall Moran, Stanley Crouch, Manfred Eicher, Michael Cuscuna, Arthur Monroe and Ayuko Babu. Arrows Into Infinity is available in DVD and Blu-ray formats. Running time 113 minutes. Subtitles in English, German, French, Spanish, Italian.
© 2013 Forest Farm + Art and deepfield ECM 5052
X
X
X
X
OH

CHARLES

BY CATHERINE
OH

DOROTHY

BY CATHERINE
https://catherineljohnson.wordpress.com/2021/11/29/1051-charles-lloyd-billy-higgins-unreleased-duet-july-1993-nyc-master-and-master-you-do-2016-catherine-l-johnson%ef%bf%bc%ef%bf%bc%ef%bf%bc/
https://catherineljohnson.wordpress.com/2021/11/22/1048-22-november-2021-london-times-review-charles-lloyd-at-the-baribcan-dorothy-darr-charles-lloyd-venerable-pine-tree-hope-2006-catherine-l-johnson/
https://catherineljohnson.wordpress.com/2021/11/04/1042-2-november-2021-st-paul-re-elects-mayor-mc3-3-november-2021-charles-lloyd-quartet-dakota-keep-the-fires-lit-catherine-l-johnson-2021/
https://catherineljohnson.wordpress.com/2021/05/21/1007-link-to-the-documentary-love-longing-loss-at-home-with-charles-lloyd-during-a-year-of-the-plague-new-film-by-dorothy-darr-streaming-until-11-june-2021/
https://catherineljohnson.wordpress.com/2021/03/15/992-keep-the-fires-lit-1-2-3-4-march-15th-charles-lloyds-83rd-weegees-22nd-birthday/
https://catherineljohnson.wordpress.com/2020/09/23/953-attn-links-for-26-sept-2020-live-stream-concert-charles-lloyd-zakir-hussain-julian-lage-%f0%9f%92%90%f0%9f%97%bdrbg%f0%9f%97%bd%f0%9f%92%90-blessed-visionary-courage-actualized/
https://catherineljohnson.wordpress.com/2020/03/15/911-15-march-2020-birth-anniversary-charles-lloyd-and-will-aka-my-nephew-weegee/
https://catherineljohnson.wordpress.com/2018/03/15/790-for-charles-lloyd-dorothy-darr-charles-eight-oh-on-the-ides-of-march-2018-for-cl-dd-sacred-listen-2018/
https://catherineljohnson.wordpress.com/2017/08/10/744-grace-8-you-are-my-grace-i-am-your-grace-40-h-x-26-w-catherine-l-johnson-anthony-coxs-dark-metals-charles-lloyds-modern-quartet/
https://catherineljohnson.wordpress.com/2017/04/16/725-newnewnew-life-awakenings-risings-rebirth-sound-of-chartreuse-sound-of-sublime-charles-lloyd-the-marvels-w-bill-frisell-greg-liesz/
https://catherineljohnson.wordpress.com/2017/03/15/721-15-march-ides-of-march-charles-lloyds-sevennine-birthday/
https://catherineljohnson.wordpress.com/2016/09/20/blackmovesyellow-7-8-9-10-11-12-13-2016-catherine-l-johnson-rene-maries-vocal-sonics-charles-lloyds-wild-man-dance-open-sonics/
https://catherineljohnson.wordpress.com/2016/09/16/blackmovesyellow-1-2-3-4-5-6-2016-catherine-l-johnson-mstislav-rostropovichs-bach-cello-suites-charles-lloyds-wild-man-dance-open-sonics/
https://catherineljohnson.wordpress.com/2016/09/02/joy-joy-joy-joy-is-visceral-joy-radiates-shines-a-halcyon-energy-joy-is-an-ecstatic-frequency-a-palpable-communication-words-are-the-source-of-misunderstandings-e/
https://catherineljohnson.wordpress.com/2016/06/29/nprs-tiny-desk-charles-lloyd-jason-moran-28-june-2016-define-sublime-poignant-flight/
https://catherineljohnson.wordpress.com/2016/02/10/goldyoume-1-goldyoume-2-goldyoume-3-goldyoume-4-goldyoume-5-goldyoume-6-goldyoume-7-2016-catherine-l-johnson-interdisciplinary-artist-charles-lloyds-you-a/
https://catherineljohnson.wordpress.com/2016/02/08/charles-lloyd-mpls-snow-blizzard-to-charles-divine-fire-charles-sacred-sonics-with-the-collective-genius-of-bill-frisell-reuben-rogers-eric-harland-2-february-2016-the-dakota-aka-low/
https://catherineljohnson.wordpress.com/2015/10/26/26-october-2015-monday-1245-pm-medialulnar-nerves-charles-lloyds-voice-in-the-night-forsk-i-wish-i-knew-how-to-be-free-the-blue-nile-all-the-things-you-are/
https://catherineljohnson.wordpress.com/2015/08/02/charles-lloyd-dorothy-darr-catherine-l-johnson-30-june-2015-lowell-picketts-living-room-aka-the-dakota/
https://catherineljohnson.wordpress.com/2015/06/16/i-breathe-it-is-the-way-i-breathe-charles-lloyd-interviews-ornette-coleman-interview/
https://catherineljohnson.wordpress.com/2015/03/22/charles-lloyd-charles-lloyd-new-quartet-jason-moranreuben-rogerseric-harland-village-vanguard-15-march-2015-radical-empathy-nyt-nate-chinen-charles-lloyd-nea-jazz-master-charle/
https://catherineljohnson.wordpress.com/2014/09/24/fyi-improvisation-the-automatic-message-instinct-art-gallery-charles-lloydbilly-higgins/
https://catherineljohnson.wordpress.com/2014/03/15/ides-of-march-charles-lloyd-76-nephew-will-15-031514hb-15-march-2014/
https://catherineljohnson.wordpress.com/2014/01/08/ginkgo-wings-portfolio-ginkgo-wings-breatheinhalehope-2014-ginkgo-symbol-of-hope-tenacity-profound-endurance-charles-lloyd-and-jason-moran-hagars-son/
https://catherineljohnson.wordpress.com/2013/10/03/catherine-l-johnson-joy-sacred-birds-charles-lloydbilly-higgins-free-birds-free/
https://catherineljohnson.wordpress.com/2013/03/14/charles-lloyd-75th-birthday15-march-the-ides-of-march-2013-music-is-a-healing-force-temple-of-dendur-the-met-jason-moraneric-harlandreuben-rogers-gr8-joy/
https://catherineljohnson.wordpress.com/2013/03/13/the-dakota-11-march-2013-charles-lloyd-with-eric-harland-reuben-rogers-the-sky-trio-and-special-guest-gerald-clayton-pure-music-no-boxes-revelations/
https://catherineljohnson.wordpress.com/2011/09/14/monsters-of-subtlety-and-oceans-of-the-heart-charles-lloyd-and-billy-higgins/
https://catherineljohnson.wordpress.com/2021/11/14/1045-captivating-radical-compassion-the-rain-meditation-heaveninmymouth-2012-catherine-l-johnson/
X
X
X
X
X
KEEP THE FIRES LIT #1                            Catherine L. Johnson   2021
In memory of Rob Matteson
X
X
X