X
X
X
JUNETEENTH NATIONAL INDEPENDENCE DAY
is the first new federal holiday since Martin Luther King Jr. Day was declared a holiday in 1983.
X
X
X
rene marIe
Lift Ev'ry Voice & Sing
X
X
X
Robert Robinson
Swing Low, Sweet Chariot
This was a coded song that alluded some of the angels
that helped free slaves such as Harriet Tubman and Frederick Douglass.
X
X
X
X
X
Resources
to understand
America's long history of injustice and inequality
https://www.washingtonpost.com/nation/2020/06/08/understanding-racism-inequality-america/
X
X
What is White racial identity and why is it important?
https://www.washingtonpost.com/video/the-lily/what-is-white-racial-identity-and-why-is-it-important/2021/06/18/a7db496c-02a7-4128-9f4e-0f924df83976_video.html-2
X
X
X
X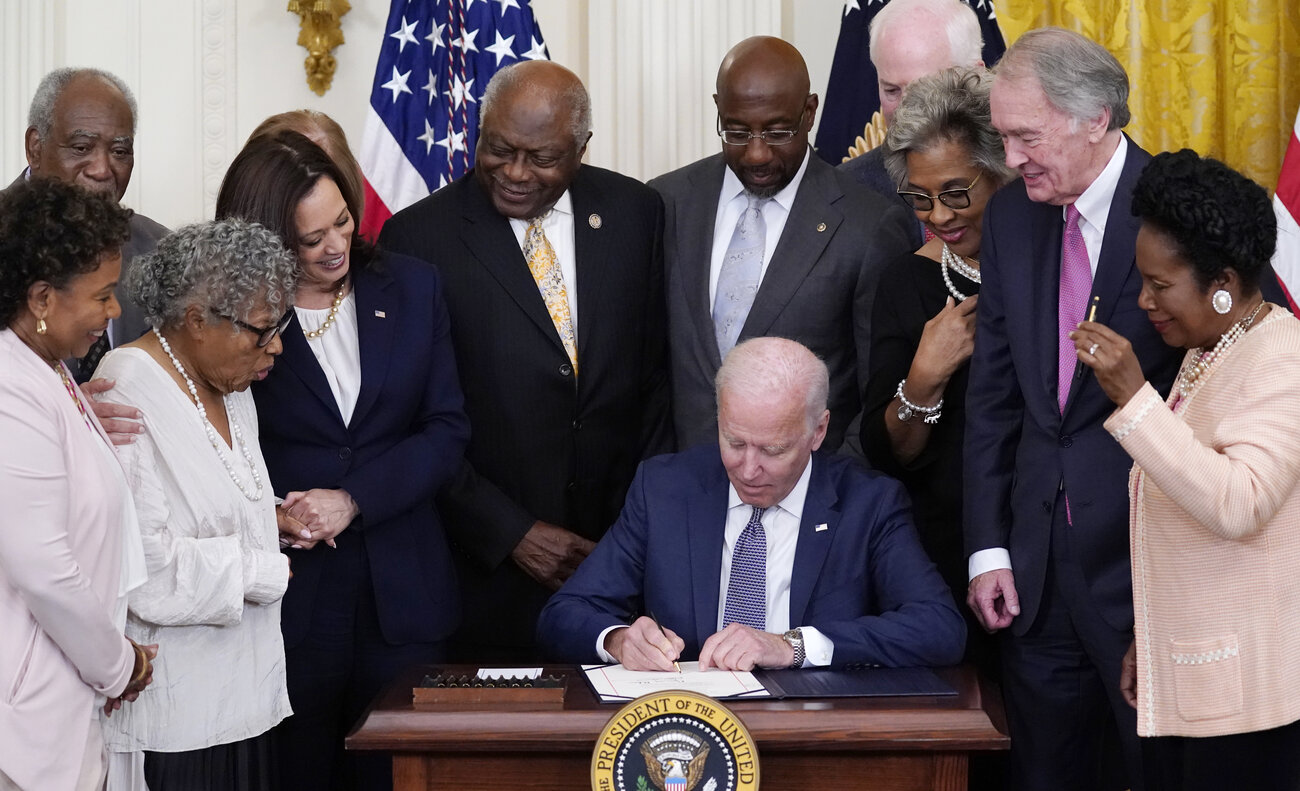 President Biden on Thursday 17 June signed a bill to recognize Juneteenth — the celebration to commemorate the end of chattel slavery in the United States —  as the first new federal holiday in decades, a major symbolic victory that Black activists have sought for years.
"This is a day of profound weight and profound power," Biden said. "A day in which we'll remember the moral stain, the terrible toll that slavery took on the country and continues to take; what I've long called America's original sin. At the same time, I also remember the extraordinary capacity to heal and to hope and to emerge from those painful moments and a bitter, bitter version of ourselves to make a better version of our selves."
Biden said that he hopes by establishing the holiday, "all Americans can feel the power of this day and learn from our history and celebrate progress and grapple with the distance we've come, but the distance we have to travel, too."
It marks the anniversary of the date in 1865 when Union soldiers brought word of slavery's end to the Texas gulf — some two and a half years after President Abraham Lincoln's famed Emancipation Proclamation.
"Think about that," said Vice President Kamala Harris. "For more than two years the enslaved people of Texas were kept in servitude. For more than two years they were intentionally kept from their freedom."
"Throughout history, Juneteenth has been known by many names: Jubilee Day, Freedom Day, Liberation Day, Emancipation Day, and today, a national holiday," said Vice President Harris, who is the first woman, Asian-American and the first Black person to serve as vice president.
"We are gathered here in a house built by enslaved people. We are footsteps away from where President Abraham Lincoln signed the Emancipation Proclamation," she said at the White House signing ceremony. "We have come far, and we have far to go. But today is a day of celebration. It is not only a day of pride.
It's also a day for us to reaffirm and rededicate ourselves to action."
X
X
X
X
X
X
X
X
X
X
 EXODUSIMFREEATLASTIAINTGOINGBACKIMFREE   

Catherine L. Johnson

2013
X
X
THE HUMANITY PORTFOLIO
2013
Catherine L. Johnson
https://catherineljohnson.wordpress.com/2013/08/29/fifteen-paintings-28-august-2013-the-humanity-portfolio-28-august-2013-the-50th-anniversary-of-the-march-on-washington-for-freedom-jobs-rev-dr-martin-luther-kings-i-have-a-dream-s/
X
X
X
X
X
X